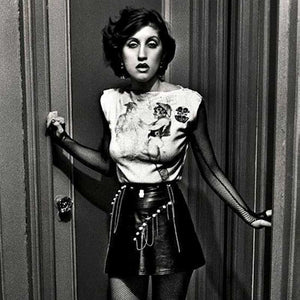 Notes On Style: Part One, The Setup
1978
I've been interested in style for a long time. Back in '78 I had a satin baseball jacket in royal blue and robin red. It was the most amazing thing that I'd ever seen, and it made me feel smart. I'd made a decision that I knew was unimpeachable.
Around that same time I'd begun an after school journey to the local Salvation Army. I'd get on my bike and travel the five or so miles, in search of something. I wasn't sure what, but I was interested in the old things that had been tossed out. My mom was not happy about this new hobby. The idea of wearing "dead people's clothes" struck her as macabre. I was thirteen years old in 1978. I was living in the American dream. Immigrant parents who'd done well, coming here with nothing and creating a life for themselves. Wrapped up in mom's distaste for "dead peoples' clothes" was her pride that we didn't need to buy second hand clothes. We could afford new clothes, thank you very much. 
At the time, thrift shopping was not the acceptable pastime that it has become today. At the time, true vintage was out there. 1920's beaded flapper dresses, 1950's French cocktail dresses in heavy satin, WWI and WWII uniforms, 1930's Hawaiian shirts. Zoot suits. My education about fit and construction is almost entirely due to the years that I've spent studying clothes in thrift shops. 
The 1978 timing is important. Only three years earlier, President Ford visited Vice Premier Deng Xiaoping and Chairman Mao Zedong in China. This was a big deal for these countries' relationship, resulting in trade partnerships that we now see what the true results are. At the time, in 1978, the industrial machinery was not yet up and running. In 1978, Made in America was still chugging along. In 1978, trade relations with Italy and France were not considered "luxury" market goods but more quotidian import goods. Here in America, labor cost was more than other countries cost due to unions (see below). There was a value sector (Sears, JCPenney) selling clothes under a house label, often using emerging economy factories. In the value sector, American made clothes made up a large percentage of the offering. In addition, the emerging economies at the time were also importing low priced goods at the value level.  Korea, India and Taiwan were a few of the bigger players in that market back then. At the mid-price, Italy was not unusual. Japan also was a mid-price import player at the time. At the high end were Italy, France, England and Germany and other (now) EU nations. Each of these EU players were known for certain category outputs. France for dresses, accessories and tailored goods. Italy was a great knits resource (think Missoni). Italy has always been a great tailored goods resource, as well as shoes and accessories. Germany was also producing tailored product, as well as "hard goods" like sunglasses and luggage. Each of these countries was often producing similar product types, but each had a quality quite distinct from one another. French product often had a more artesanal appearance, where Italian product is/was created using a production line method that is refined and thoughtful. German product is well, German. Kraftwerk. Perfect execution, yet more industrial finish and appearance. 
And then there was Made in America product. American garment and accessory production in the 1970's had very little in terms of elegance or craft, but in hindsight was created with logic and discipline. The ILGWU  was still an important defense for American garment workers at a time where factories were still very much running, from New York's garment district to South Carolina, Chicago, Los Angeles and here in San Francisco's Chinatown. The machinery, thread and fabrics were all American-made. As a related sidebar, my husband is from Greenville, South Carolina. At the time, a number of cotton mills were still chugging along. Fast forward, these buildings are being renovated for a variety of uses, such as the Brandon Mill Cloth Building.
1978 was a good year for style. The influence of punk had been slowly entering into the fashion world as an emerging trend. The languid opulence of YSL and other European fashion brands that had dominated the seventies were starting to look a little démodée. Punk and new wave was all sharp elbows and sneering attitude, an insouciance towards all that had come before. Bad boy fifties style as well as the more space-age excitement of the sixties were style cues, along with S&M and anything else that might be off-limits in polite company. We were taking our cues from styles that were new when we were born, in the fifties and sixties, which meant that we were mining these style cues for the first time. Which brings me to my first decree: If you're old enough to remember a style, there will be very little excitement in it for you a second time.
After a year of going to thrift shops around home, I started heading into San Francisco to check out the scene there. There were a number of vintage and thoughtful boutiques around town carrying less mainstream items. My favorite shops were on Polk street, a fairly seedy block at the edge of the Tenderloin that was also the cooler area of town for shops. It was a rough and tumble time in San Francisco. One of the more interesting shops on Polk was called Chicken Little. The eclectic mix of new and old was humorous and edgy, which I absorbed as the most exciting blend imaginable for a shop to have. As a side note, whenever I think that my shop is getting too-too, I remember Chicken Little and try and bring in some more fun. They carried vintage Fiesta Ware, still widely unknown and accessible. The colors of Fiesta are a little off. The orange was a little too dark, the blue a little too light. But that was the fun. These things were supposed to be kind of off. Not exactly right. Hand-painted paper jumpsuits, earrings made from rubber matting, see-through bags with glitter and palm trees fused into the plastic. Kitsch was good. There was a new youth movement happening and it was getting bigger and stronger every day. 
The New Guard
In late seventies and early eighties Europe, new designers such as Vivienne Westwood, Jean Paul Gaultier and Gianni Versace were starting to make waves. These were the enfants terribles of the scene, each projecting a new perspective on what style would come to mean as the eighties came into focus. Gaultier with his multi-culti references, Westwood with her punk attitude that became hyper-romantic piracy. This wasn't Parisian salon haute couture with imperious vendeuses looking down their noses at you. This was fashion at street level, made for everyone to participate. You might not be able to afford the real thing from one of these designers, but you could certainly find something at the Goodwill that would give you street cred. And that, in many ways, was even more powerful. Because it was about youth, and attitude. As fashion is when it's at its best: Egalitarian.
 Vivienne Westwood design, 1976
And then there was Versace. Versace, along with Giorgio Armani, breathed new life into the Milanese fashion scene, and by extension, the fashion world at large. Italy had created a new way of consolidating brands under a larger manufacturing umbrella, allowing designers to focus on what they do best while the factories, marketing and sales were taken care of by the larger holding company. Versace brought an excitement to the market that was revolutionary in color, cut and execution. The clothes were exciting and sophisticated. Versace and Armani created the template for a silhouette and attitude that would dominate eighties style. In Versace's case, hyper-sexual and severe. A draped chainmail metal dress with a leather belt. A leather jacket with inset chainmail panels, a modern armor. This was clothes for a warrior, quite different than the romance that YSL and Chloe had dominated the fashion scene with only a year or so before. I was really impressed with Versace back then. He had ingenious ways of cutting a pattern so a flat paper shape, when sewn, became nuanced and complex. Which is at the core of what I try and do.
Versace chainmail dress, 1983
Some Versace trivia: the iconic red leather and chainmail jacket that Michael Jackson wore in his Thriller days was designed by Versace. The two of them went on to have a lasting partnership in Jackson's style over the years.
Icing
At this same time, Russian constructivism was blasting its way into fashion by way of the graphic arts. The visual style that originated in early Soviet-era propaganda and fine arts thanks to artists like Alexander Rodchenko and Kazimir Malevich offered severity, breaking things down to the essential. Using primary and secondary colors, simple shapes and compositions, these Russians from the USSR's infancy had stumbled on the building blocks of the  late 20th century's most important and long-lasting symbols and spoken to us from the other side. The simplicity spoke to those of us who weren't interested in superfluous design. We were evolved. We knew better. To me, the Russians were the beginning of modernity, contrary to Chanel's claim.
Suprematist No. 38" (1915-1916), Kazimir Malevich
Ettore Sottsass and a group of designers created the Memphis Group in the early 80's with a unique take on design, blending a variety of influences to create a very noisy, childish and exciting new take on furniture and the applied arts. Their work came to influence design for the next twenty years in many ways, from Michael Graves' iconic teapot to Arquitectonica's Atlantis building in Miami. 
The Atlantis, Arquitectonica, 1982
I was living in Miami when the Atlantis was built. I felt like we had been given the best gift ever. Having this sculpture-cum-building in our city made me feel like we had arrived. There was nothing more modern in the world. There was no way that I could have known at the time that the visual cues that I absorbed from Memphis and the Atlantis would have a lasting effect on my design vocabulary. It does, and it gives my design some added intensity. The balance is the simplicity of shape mixed with a creative material. Balance is everything.
---
1 comment